In this post musicians from Charanga del Norte reflect on their recording experiences on this British Academy funded project which involved studio recordings with some live takes (for the rhythm section and then the string section) and then the live takes at All Hallows Church, Hyde Park, Leeds at the end of 2019. In these reflections, musicians talk about the pros and cons of live take recording and about capturing that all important element of spontaneity and sabor essential to Cuban/Latin dance music performance. Sound engineers and film makers on the project also contribute their reflections on the project below.
RUTH BITELLI – BASS PLAYER CHARANGA DEL NORTE
"I was thrilled to be part of this project. It was such a lovely opportunity to record as a whole band, with no click, rather than laying down separate tracks. It makes the whole experience more organic, less mechanical, more human."
NICK WILLIAMS – VIOLIN CHARANGA DEL NORTE http://williamsmusic.co.uk/

"The experience of recording live as a band was a very satisfying one. From a practical point of view, no one was hanging around while others were recording their tracks, while musically there was an energy to the recording which is often lacking in a modern studio setting. There was an element of pressure too, which was no bad thing, as if you messed up your part it affected the entire recording process, not just your individual track – everyone was relying on everyone else. So that kind of communal group music-making (without the tyranny of a click track) was really satisfying and liberating, despite the pressure we were under. Sometimes in a modern studio setting one can go in, do one's track and go home without even seeing the rest of the band. So being all together as a band in that context meant that a real band empathy and energy was generated, warts and all…And even if a mistake did pop up here and there, it was worth it for the overall final result."
ANDY WARDALE – CELLO CHARANGA DEL NORTE  https://www.urbanbirdsong.co.uk/
"This was a tremendous, full-band recording experience and rare indeed. Live and dangerous!
So, usually in studio recording, there is time for multiple takes and tweaking individual lines to get that 'just so', beautiful sound. Beautiful perhaps, but not 'live'. In these sessions, the church setting and full interaction with band colleagues, produced energy to overcome concentration fatigue and enabled the real sound of LIVE performance.
Crackling chamber music!"
SUE MILLER – FLUTE, ARRANGER, MD Charanga del Norte https://www.charangadelnorte.co.uk/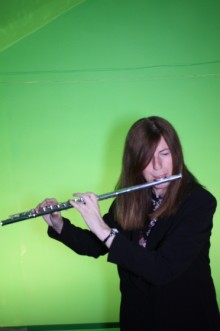 "Getting the heavily tongued charanga flute sound through experimentation in the studio with ribbon microphones was essential and I enjoyed the studio experience of recording although I much preferred the live headphones free recording experience in the live space at All Hallows Church. Following recording layout plans we researched in Havana's Egrem studio archive I was initially put on the altar as the high flute sound has to dominate. However the room was so live that I was brought back down to earth and to the same floor level as the rest of the band! Adapting to the acoustics of the room was key to this recording session and we have found out how hard that is to do with contemporary musicians who are more used to sound engineers fixing things in the mix.
I love the spontaneous additions to our live set through flute and timbale breaks to added coros and ad libs. We definitely captured more of the spirit of those 1950s and '60s recordings by the early New York charangas like Charanga Duboney and Orquesta Broadway in these sessions even if we didn't quite capture the desired sound aesthetic. The lovely thing about this project is that our live videos and recordings have set us up in dialogue with those from the Latin dance music tradition so we have found out even more about Latin music's production history.
The sound engineers Barkley McKay and Paul Thompson were light touch particularly for the live recording and so what we have done in our recordings is less mediated than many contemporary Latin music productions. It does mean more mistakes have been kept in but I prefer the live takes on balance to the more polished studio versions. I loved recording live – as an improviser I like the danger and the energy of collective creativity and spontaneity. I think human connection and a palpable sense of  community runs deep in this style of collaborative music making."
SOUND ENGINEERS' PERSPECTIVES
DR PAUL THOMPSON
"This was an incredibly fun and fruitful experience from start to finish. From watching performances of live music in Havana, speaking to Cuban recording engineers and performers, to recreating some of the conditions musicians, engineers and producers would have experienced in the 1950s and 1960s in recording studios in New York and Havana. Using an archeological approach helped us to gain new insights into what might have happened during a recording session, and more importantly, why certain decisions were made. The starting point for us, or the archaeological data here, were the recordings that were produced in Havana and New York in the late 1950s and late 1960s; but a method of working backwards from the finished product, or reverse engineering, can only reveal a limited amount of what's involved. Sourcing microphone technologies of the time and recreating the conditions of a recording session as closely as possible gave us an additional direction of analysis  as the creative process was examined forwards."
FILM MAKER'S PERSPECTIVES
TIM BLACKWELL
"I was attracted to the idea of this project because of the process of capturing tracks in one take and the framework imposed by the original ribbon mics. I wanted to honor these limitations by developing a similarly restrictive working method towards capturing the performances.
I've shot a lot of footage of bands recording in the studio and it can be quite maddening, trying to anticipate when the magic will happen. I wanted to see if I could replicate the energy of the live session, with a free approach. The players were all set up for the optimum sound and for the recording, rather then with a performance and an audience in mind. I wanted to capture all of the signals and communication that occurred between the players.
In the same way that the musicians had to weigh up the pursuit of perfection against a recorded take with the right energy, as sole operator of 3 cameras, what I sacrificed in terms of control and coverage, I hoped I would communicate through an authenticity and vitality (warts and all)."
If you want to hear these recordings (studio and live space-live take sessions) they are released on Spotify as the album Charanga del Norte – Pachanga Time from 18 June 2020 – here:https://fuga.ffm.to/pachangatime