I'm giving a talk and then Charanga del Norte perform at Instituto Cervantes in Manchester on Wednesday 25 January 6.30pm. Check out their website for further details
Instituto Cervantes, Manchester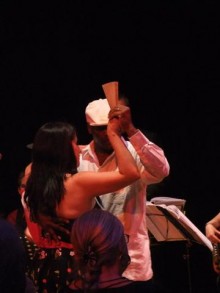 Wednesday 25 January 2012
Talk 1:
The Danzón Cinquillo Rhythm – in Cuba, Mexico, Argentina and the US
The five-beat danzón rhythm can be found not only in Cuban danzón and contradanza musical styles but also in ragtime, stride, boogie woogie and Argentinean Tango. In this talk Dr Sue Miller traces the development of this rhythm from the late nineteenth century and early twentieth century Cuban dance styles of contradanza and danzón in the orquesta típicas and charangas, to its appearance in ragtime, blues and tango forms. Also forming part of classical repertoire from George Bizet to  Ernesto Lecuona, this rhythm never truly disappears  – it just migrates!
Concert:
Charanguita del Norte: a small charanga orquesta, the baby sister of Charanga del Norte, the band perform and demonstrate the Cuban danzón, danzón-chá, mambo and chachachá styles.