CHARANGA DEL NORTE PRODUCTIONS
CUBAN MUSIC: WEEKEND INTENSIVE COURSE
Saturday 2nd and Sunday 3rd October 2010
Led by
Musical Director: Sue Miller
Percussion Tutor: Jack McCarthy
At
Yorkshire College of Music and Drama, Leeds
(at the new college site St Marks House, 1 st Marks Avenue, Leeds LS2 9BN)
The Course:
This weekend intensive course in popular Cuban music aims to explore a variety of Cuban Music popular styles through a mixture of workshops, sectionals and ensemble playing with a focus on clave, groove, timbre, improvisation, and stylistic concerns. The course caters for brass (trumpets, trombones), strings (violin, viola, cello, guitar, tres), woodwind (flute, clarinet, saxes), percussion (timbales, congas, bongos, guiro, maracas), vocals, piano, and bass.  Styles covered are likely to include Son, Son Montuno, Danzón, Mambo, Chachachá, Bolero and Guajira. Percussionists will also receive small group tuition from Jack McCarthy,  focussing on technique, timbre, stylistic ensemble patterns, clave feel and stylistic improvisation. Sue will focus on ensemble playing and frontline & melodic rhythm section workouts, stylistic improvisation and the unwritten codes used in the performance of Cuban Son and Charanga styles. There will be arrangements but also a focus on the Descarga (Cuban Jam Session).
Fees: £70 per day or £120 for 2 days (10am til 4pm)
After the course on the Sunday 3 October there will be a presentation by Sue Miller and Vicki Beere on the course in Havana in April 2011 (4pm til 5pm)
Official Enrollment and payment from 6 September at Yorkshire College of Music, cheques made payable to Charanga del Norte and sent to 25 Norman Row, Kirkstall, Leeds LS5 3JL or paid in person at Yorkshire College of Music
more details about the course structure will be posted in September…watch this space!
Contact Sue Miller to reserve a place…
CONTACT:
Sue Miller
Tel 07957 244 167
Email charangasue@ntlworld.com
Website www.charangasue.com
Biographical notes:
Sue Miller B.A., PGCE., PGDM., MA., PhD (pending)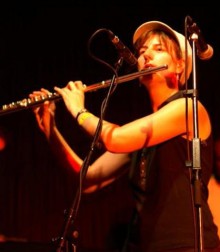 Sue Miller completed the Postgraduate Certificate in Jazz, Contemporary and Popular Music at Leeds College of Music in 1994 and later studied Cuban flute improvisation with the legendary flautist from Orquesta Aragón, Richard Egües, in Havana. An experienced teacher, lecturer and performer (she is bandleader of Charanga del Norte and flautist with the Rumberos All Stars Palmieri tribute band), Sue has also directed Cuban Music Big Bands at Yorkshire College of Music, LCM and the University of Leeds and is also a part-time lecturer in Cuban, Popular and World Music at Leeds University. Sue is currently finishing a PhD in flute improvisation in Cuban charanga performance at the Univeristy of Leeds. For more information on her work see https://www.charangasue.com
Jack McCarthy
Jack is an active freelance percussionist and drummer. He first travelled to Havana in 2008 to study Timbales in the popular styles with Buena Vista Social Club's timbalero Amadito Valdes, Jesus Cos, 'el Gigante del Timbal' (Orquesta Sublime) and Congas with Santiago Garzon Rill (Clave y Guaguanco). In March 2010 he returned to Cuba for an intensive course on Rumba, organised by 'La Timbala' and featuring musicians from Yoruba Andabo, Rumberos de Cuba, and Grupo Afrocuba de Matanzas. One of the brightest talents to emerge onto the UK Cuban music and Salsa scene in recent years he has played congas with Charanga del Norte since April 2009 and is featured on their new CD 'Look Back in Charanga'.
At the end of the course there will be the opportunity to sign up for regular Cuban music courses and ensembles at Yorkshire College of Music and also a presentation on the course in Cuba in April 2011 on the Sunday.