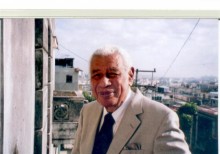 Written for the British Flute Society Journal PAN : Volume 27 number 2, June 2008
THE CHARANGA FLUTE PLAYERS OF CUBA
by Sue Miller

There is a tradition of Cuban popular music called Charanga that originated at the turn of the twentieth century which features the flute as the main impro­vising instrument. These dance orchestras consist of flute (originally a five-key wooden flute but now the metal Boehm flute is also used), violins, piano, bass, timbales, congas, güiro and vocals. The famous styles of Danzon, Chachachá, Mambo and Pachanga originated with this line-up. The style of flute improvisation in these dance bands is unique to Cuban music and the flute plays a central improvisatory role within it; a role rarely found in other popular dance genres. For over a century the flute has therefore had a big influence on the musical development of popular dance music in Cuba. In two earlier articles for this journal I gave a historical account of the development of the Charanga and the Charanga flute style. In this article I will be providing you with some thumbnail sketches of some of the most outstanding Charanga flute players from Cuba, featuring interviews with the artists themselves that I undertook during my research in Cuba and New York in 2006 and 2007. Before introducing you to some of the important proponents of this style, however, it is first essential to mention the influence of three key players.
The Big Three: Arcaño, Fajardo and Egües
Antonio Arcaño was born in 1911 and set up the seminal band Arcaño y sus Maravillas in 1937. This band contained two very talented players, the bassist Israel Lopez (known as Cachao) and his brother, the cellist Orestes Lopez. Together they composed the first Mambo ever written in 1938. This innovative band had a great influence as it broadcast regularly on the radio in the 1940s and 1950s. Arcaño's legacy as a flute player was that he widened the improvisatory role of the flute in the Charanga line-up. Previously flute improvisations were more confined to an embellishing role in Danzón but with the advent of Mambo and then Chachachá came the open Montuno section in which the flute improvises over the tonic and dominant chords. Arcaño also taught many Charanga flute players but as a player he was super­seded by two giants of improvisation: José Fajardo and Richard Egües. These two players, who were at the height of their fame in the 1950s and 60s, really defined the Charanga tipica style of flute playing both for their contemporaries and for the players who came after them. Both men were virtuosos who developed motifs creatively at astonishing speed, all with a rhythmic precision that is quintessentially Cuban (that is, with a Clave feel).
Sue Miller is a flute player and musical director of Charanga del Norte. She is currently studying for a PhD in Cuban Charanga performance at the University of Leeds, UK. Her band Charanga del Norte celebrates its tenth anniversary in 2008. To celebrate the group has a new album entitled Our Mam in Havana and is touring the UK this summer (visit www.myspace.com/ charangadelnorte for tour details)
Voy hablar con to Papa, a solo by Richard Egües transcribed from a recording by Sue Miller. (Note: all transcriptions are written an octave lower and need to be played an octave up.)
José Fajardo. Some of Fajardo's great solos can be heard on Esto solo se da en Cuba recorded by his band Orquesta Fajardo y sus Estrellas. This band was later renamed Estrellas Cubanas and was led by the violinist and composer Felix Reina after Fajardo left Cuba for the United States forever in 1961.
Richard Egües. Richard Egües, however, stayed in Cuba until his death on 1 September 2006 at the age of eighty-two. His fame came from his long tenure with the legendary Orquesta Aragón, as a virtuoso flute improviser composer and arranger for the band. His compositions El Bodeguero and Bombon Cha are part of the canon of popular Cuban music repertoire. Born in 1924, Richard was playing the piano as a child in his father's orchestra. His daughter Gladys Egües tells the story that 'Richard Egües, eleven years old in short trousers, called bombachos (plus fours), was playing in his father's band. There's a famous anecdote that he went outside during the interval to eat some sweets and that they wouldn't allow him back in the dancehall as children were not allowed in and so the band couldn't play on without him. I'm telling you this to illustrate the fact that Richard has given seventy years of his life to popular Cuban music'.
Richard later transferred from piano to flute, joining Orquesta Aragón in 1953 when their second flute player Rolando Lozano left for Mexico with Orquesta America. Aragón's first flute player Efrain Loyola is still directing his Charanga Orquesta in Cienfuegos at the age of ninety-four, and he performed a tribute to Richard in Havana's Teatro América in March 2007. With Orquesta América away in Mexico in 1953, Orquesta Aragón became the most famous Charanga group in Cuba playing the latest dance style, the Chachachá, appearing frequently on national TV. They also toured the world and were the first popular music group to perform at the Tchaikovsky Conservatory in Moscow.
The recorded output of Orquesta Aragón is extensive and the live recordings for Cuba's Radio Progreso show Richard's improvisatory skills (some of these live recordings are now available on the Barbaro label as a two-volume set—entitled Los Aragones en la Onda de la Alegria) and reveal the extent to which Richard could invent phrases without repeating an idea. Here is an extract from one of his solos inspired by Beethoven's fifth: Voy hablar con tu Papa, transcribed from his recordings. In this excerpt from his solo in E minor Richard uses various motifs based around the dominant note B, using repeated isorhythms and cross rhythms of three against four and a fast sextuplet figure starting in bar 140, all devices typical of the Charanga style of improvisation.
Eddie Zervigon. Born in Güines, Cuba, Eddie first studied solfège with Richard Egües's father Eduardo. Richard's playing inspired him to take up the flute. He bought his flute on his fifteenth birthday (in Cuba the fifteenth birthday is a big coming of age celebra­tion) although Eddie told me that he lost most of the 200 pesos given to him by all the family in a game of pool and that he bought the flute with the eight pesos he had left!
When Eddie Zervigon left Cuba in 1962, José Fajardo helped him to find work in New York as a performer, as did the Puerto Rican flute player and Fania All Stars creator Johnny Pacheco. Initially deputising as the flute player in Pacheco's band as Pacheco had recently undergone a throat operation, Eddie declined Johnny's offer of sharing the flute chair in his Charanga and set up his own band with his brother Rudy. Not wanting to name the band Charanga Guines, the Palladium promoter suggested they name the band after the street they lived on in New York and so the band became known as Orquesta Broadway. The group met with great success, per­forming at the Palladium and recording extensively. Eddie is a virtuoso five-key flute improviser who has led Orquesta Broadway in New York since 1962 and continues to perform in the US and abroad. In July 2007 Eddie invited me to New York to join his band at the annual Cuban music festival El Mamoncillo, where various New York Charanga and Salsa bands were performing and where he put in a dazzling perform­ance not only with his own band but with Manny Oquendo's group, blowing storm­ing solos over a trombone section made up of New York's finest.
Eddie's virtuosity and clave feel mark him out as one of the best Charanga tipica flute improvisers still performing today. An example of his fluidity can be found on the record Paraiso. Most Charanga players go up to E above the range (Fajardo goes up to F sharp) but Eddie is the only player I have met who regularly hits top F sharp and G.
Eddie cites Egües and Fajardo as his major influences but also greatly admires Julio Guerra (former flute player with Estrellas Cubanas) and Belisario Lopez (who set up his Charanga Orquesta in Havana in 1928). In fact Belisario Lopez left Cuba for the US in 1960 and later gave Eddie his five-key wooden flute which Eddie let me try out. Made in the nineteenth century, Belisario's flute is incredibly light and responds well in the high register. An interesting fact about Eddie is that he used to present the weather on Cuban TV and is the only musician I know that combines a successful performing career with chasing hurricanes and checking barometers!
Polo Tamayo. Policarpo (Polo) Tamayo, known most recently for being one of the Buena Vista Social Club musicians, was born in Pinar del Rio on 26 January 1934. In an interview in 2006 Polo told me that he comes from a musical family where his father played trombone and his brothers bass and trumpet and that he learnt solfège from the town's only music teacher. His father bought his brother a flute and when his brother did not get on with it Policarpo persuaded his father to let him have it instead. He learnt the fingerings from a flute tutor book by Tulou and learnt the Charanga style from copying flute players' solos he heard on the radio. As he told me in 2006, 'I would hear a melody and pick it out by ear, copying the flute players' inspiraciones. I make my own up now but to start with I copied them. The first flute player I heard on the radio was Arcaño, then Juan Pablo Miranda and then Fajardo. Then came Richard Egües, 'la epoca de Richard, as he put it – 'and, well, after Richard
there were lots of imitators including myself! People said I sounded like Richard so I realised I had to develop my own style. I did listen a lot to Richard though … but I also liked Fajardo.' During this interview we discussed the difference between the Cuban style of improvisation and jazz and Polo said 'Cuban music is singable … the flute melodies… well you can sing the flute inspirations back.' As Bill McBirnie remarked on Richard's soloing, people in the street were as likely to sing back Richard's improvised solos as they were his com­positions because they were so 'clever, catchy and melodic all at once'.
Polo has played in several important Charanga bands over the years, including Orquesta Neno Gonzalez, Ritmo Oriental and currently Charanga de Oro (which is directed by José Loyola, the son of Aragón's first flute player from the 1930s, Efrain Loyola).
Melquiades Fundora. Melquiades was featured in the March 2003 edition of Pan. When I met up again with him in 2006 and 2007 he was still going strong at the age of eighty-two, playing his beloved five-key flute with the band he founded, Orquesta Sublime. The hallmarks of his style are his percussive phrases and strong attack. He improvises in a very drum-like way with his top D's punching the airwaves in just the right spot. Being with him on stage is always exciting as the music is visible in the way his whole body inhabits the music. He is a true veteran of Charanga and a national treasure.
Joaquin Oliveros. Joaquin is one of the younger proponents of the five-key flute and has played with Cuba's finest, including Charanga Rubalcaba, Frank Emilio Flynn and The Afro-Cuban All Stars. A huge fan of Fajardo, he insisted to me that there are two schools of Cuban flute playing: one that descends from Arcaño to Fajardo which is more romantic in style and one that descends from Joseito Valdes to Richard Egües which is harder-edged and more technical. Whilst stating that Richard is the champion of Charanga flute improvisation and rightful owner of the 'gold sash' for his genius virtuosic improvisations, he told me Fajardo could be equally virtuosic whilst never forgetting the romantic roots he inherited from Arcaño.
Whilst Joaquin is clear in his mind of the distinctions between the two schools of Charanga flute playing, other flute players disagree as many claim both Fajardo and Egües as influences on their own playing. In my own analysis of both players' solos I have found both differences and similarities between Fajardo and Egües. For example, both players have a spontaneous command of form when it comes to composition and motivic variation, and both possess incredible rhythmic elasticity and precision. Their sounds do indeed differ, with Richard's perhaps being the more strongly attacked. Richard has also completed more recordings so has perhaps had the greater influence on subsequent players of the style. Eddie Zervigon also made this comment but pointed out that Fajardo was the master when it came to improvisation over the dominant 7th (on pieces built solely on one dominant chord, usually a Mambo). As Joaquin dem­onstrates in his own virtuosic playing, whether one is influenced by Egües or Fajardo or both, these two masters of Charanga flute improvisation can provide plenty of inspiration for other flute players of this style.
Pancho Bravo. Pancho Bravo, otherwise known as Alberto Cruz Torres, was born in 1928 in Pinar del Rio and formed his band Pancho el Bravo y sus Candelas del tira tira in 1959. At this time Orquesta Aragón, America, Melodias del Cuarenta and Orguesta Sensation were all the rage and Pancho's band was also hugely popular. Up-tempo and energetic, Pancho's flute solos are speedy, percussive and playful.
Eduardo Rubio. Eduardo Rubio plays the Boehm system flute and is Richard Egües's successor in the modern-day Orquesta Aragón. He is an exceed­ingly fluid player and uses more chromaticism and range than many típica players. He nevertheless has incorporated Richard's legacy into his own playing whilst retaining his own sound and style.
This is the first half of his solo in D minor on the Danzón Si Envidia (from the album 'Aragón en Route') and here Eduardo Rubio really explores the range of the flute, starting in a classical manner using rubato and the juxtaposition of semiquavers and triplets to create suspense. This first half of his solo is the prelude to the gradually rising cli­mactic second half and Eduardo (or 'Chen' as he is known) is a master of building a solo gradu­ally (something which is not always part of the Charanga flute style in general as flute solos mainly occur in the second half of an arrangement. The solos that tend to be lower in dynamic and build up more gradually are usually taken by the piano or violin in most Charanga music. Chen's chro­matic motif at bars 24 and 25 is characteristic of his own personal style.
Eduardo Martinez. Eduardo Martinez is the current flute player with the band Melodias del Cuarenta. I met him in February 2006. This band was formed in 1940 and continues to the present day with a new line-up, performing a repertoire that includes their classic tunes Me Voy Pa' Moron and Tunas Bayamo.
Other important Cuban Charanga flute players include Juan Pablo Miranda from Orguesta Sensación. Legend has it that this particular flute player stole the composi­tion Bombon Chá by Richard Egües and attempted to record it before Orquesta Aragón got the chance — a fight ensued in the studio between the two bands, thus disrupting the studio session and putting an end to this tune-hijacking attempt.
Another Charanga flute player of note is Alberto Corrales, whose band features on the soundtrack to the Cuban film Fresa y Chocolate. Add to this list Archimiro Larduet from Siglo XX, Manuel Wambrugh from Orquesta América, Orlando and René Beltran from Cienfuegos and Sergio Sarmiento Hechavarria or 'Chicho' from Estrellas Cubanas, among many others.
This is just a brief introduction to some of Cuba's finest flute improvisers but I must also state that there are many other Charanga flute players outside Cuba, particularly in the USA, who merit a study on their own.
If you would like to hear some live Charanga music in the UK do come along to one of Charanga del Norte's summer concerts (dates of our forthcoming 2008 performances can be found on our websites).
Glossary
Charanga
A line-up of violins, flute, piano, bass, güiro, timbales, congas and singers.
Chachachá
The Chachachá is a style created in the Charanga Orquestas of the 1950s, said to have been named after the sound of the dancer's feet. Less syncopated than Son all the instruments have specific patterns for the chachachá
Clave
The clave is the 2 bar rhythm which acts as a 'time-line' or organising principle of Cuban music. Consisting of one bar that is syncopated and another more on beat it can run in two directions of 2-3 or 3-2. The 2-3 clave consists of bar one: two crotchets on beats 2 and 3 followed by bar two: dotted crotchets played on beats 1 and the 'and of two' respectively followed by a crotchet on beat 4. The claves are the two sticks that play this rhythm in a Cuban Son line-up; in other line-ups the clave rhythm is often implied by the patterns of the other instruments or melody but not overtly stated.
Danzón
Danzón developed in the nineteenth century from the Habanera and is generally accepted as Cuba's first national music and dance form. It is characterised by its rondo form with an introductory 'paseo' section followed by sections for violins and flute before entering into a montuno section (post 1930s).
It is characterised by the following rhythm played on the timbales and güiro:
danzon baqueto pattern
Danzones del nuevo ritmo
The name given to the extended Danzón form invented by Israel and Orestes Lopez (from the Charanga Orquesta Arcaño y sus Maravillas) in the late 1930s and 1940s. They added a more syncopated section to the Danzón called Mambo.
Estribillo
The call and response between coro singers and either improvising lead singer or solo instrumentalist is called 'coro-prégon', 'coro-guia, 'coro-inspiración' or 'estribillo' and takes place in the 'montuno' section of an arrangement.
Flauta de cinco llaves
This five-key pre-Boehm system flute came to Cuba via the French after the Haitian revolution when French colonialists and their African slaves fled Haiti and settled in Santiago de Cuba. Most Charanga flute players until modern times played this nineteenth-century flute and many flute players today insist that the real sound of Charanga can only be achieved on this flute as it is very loud in the top register and has less sustain, ideal for percussive playing.
Güiro
Gourd-shaped scraper that provides the rhythmic impetus in Cuban music and espe­cially in Charanga.
Inspiración-Guia
The term for the short improvisations in between coros in the montuno section—these can be vocal and instrumental.
Mambo
1.The name for a style of music: two types are generally acknowledged—the Big Band Mambos of Perez Prado, Machito and Tito Puente and the Charanga Mambo invented by the López brothers in Arcaño y sus Maravillas.
2. The name for an 8 or 16 bar figure usually played by brass instruments to break up sections of an arrangement and increase the intensity.
Montuno section
The Montuno section is the open section where there is Coro-Inspiración and solo improvisations.
Pachanga
A popular style that followed the Chachachá in the late 50s. Stylistically very much like a fast Chachachá with elements from the Son.
Piano Montuno
The piano montuno is the two bar pattern based around clave which has two forms: 2-3 and 3-2 .
Son
The traditional Son line-up includes maracas, bongo, guitar, tres, marimbula (a large box with metal thumb keys) or bass and vocals. Cuban Son and Charanga evolved together and have many elements in common.
Timbales
Instrument derived from the orchestral timpani.
Tipica style
Term used to describe the Charanga flute style of the 1940s and 50s.